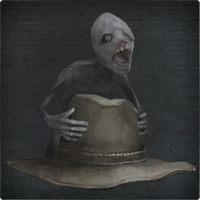 The Yharnam Messenger Hat is a key item in Bloodborne.
Description
In-Game Description
Hat that the messengers are oddly fond of.
Commonly called a Yharnam hat.
The inhabitants of the stump appear to have an interest in adornment. Why not let them be happy, and revel as babes?
Availability
Pre-order item.

Cannot be obtained by any other means.
Use
Equip at the Stump Messenger to make the Messengers wear it.