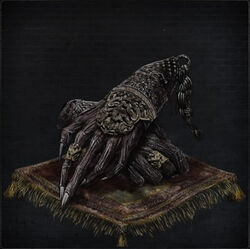 Sage's Wrist is a material in Bloodborne.
Description
In-Game Description
Special material used in a Holy Chalice ritual.
A body part of a saint, sacrificed by the Healing Church in their search for Truth.
The additional rite Fetid Offering invigorates the Watchers, making them more treacherous than normal, but also making them worthy prey for a special hunt.
Availability
Usage
Notes
Trivia
The Labyrinth Ritekeepers appear to hold a Sage's Wrist in their hands, using it as some sort of catalyst for Arcane abilities. Interestingly enough, they always have a left hand.