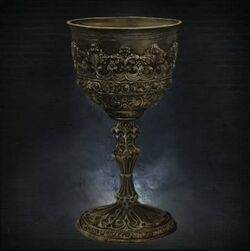 The Pthumeru Root Chalice is a Chalice item in Bloodborne.
Description
In-Game Description
Root Chalice that breaks multiple labyrinth seals.
Root Chalices, used in rituals to break old labyrinth seals, are said to change the labyrinth's form each time.
The old labyrinth was carved out by the Pthumerians, superhuman beings that are said to have unlocked the wisdom of the eldritch Truth.
Availability
Use
The Pthumeru Root Chalice can be used at a Ritual Altar to create the following Chalice Dungeon:
General Chalice Info

| | |
| --- | --- |
| Depth | 1 |
| Area | Pthumeru |
Notes
This is the first Root Chalice that can be acquired in the game, and could also be considered the easiest to obtain.
Trivia