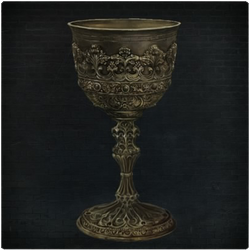 The Pthumeru Chalice is a Chalice item in Bloodborne.
Description
In-Game Description
Ritual chalice found in the Church of the Good Chalice.
Use in a ritual at the tomb altar in the Hunter's Dream to break the seal of the old underground labyrinth.
Let the chalice reveal the tomb of the gods; let blood be the hunter's nourishment.

...And let ye partake in communion...
Availability
Use
The Pthumeru Chalice can be used at a Ritual Altar to create the following Chalice Dungeon:
General Chalice Info

| | |
| --- | --- |
| Depth | 1 |
| Area | Pthumeru |
Notes
This Chalice is the technically most important Chalice in the game. Players can still find the Ailing Loran Chalice and Great Isz Chalice, but will be unable to use them as the Pthumeru Chalice grants the very first set of Chalices, which allows players to eventually find enough higher grade Chalice Materials to actually create the Ailing Loran and Great Isz Chalices.
The player must first find the Ritual Blood (1) in Old Yharnam that is located in the same small chapel at the altar where the crucified Blood-starved Beast is first found, along with a congregation of various both male, and female Beast Patients.
Trivia