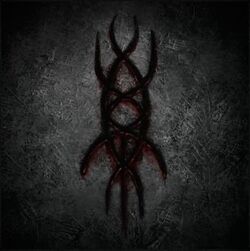 Oedon Writhe is a Caryll Rune in Bloodborne.
Description
In-Game Description
A Caryll rune that transcribes inhuman sounds.
"Writhe" sees a subtle mucous in the warmth of blood, and acknowledges visceral attacks as one of the darker hunter techniques. Visceral attacks restore Quicksilver Bullets.
Human or no, the oozing blood is a medium of the highest grade, and the essence of the formless Great One, Oedon. Both Oedon, and his inadvertent worshippers, surreptitiously seek the precious blood.
Effects
A "Liaison" rune. Visceral attacks restore QS Bullets.
Oedon Writhe (1): V.ATK grants +1 QS bullets:
Oedon Writhe (2): V.ATK grants +2 QS bullets:
Oedon Writhe (3): V.ATK grants +3 QS bullets:
Notes
Useful for most players, but particularly useful for Arcane builds, as it will allow players to make frequent use of high cost Hunter Tools.
Sinergizes well with the Blood Rapture rune, which grants health upon a visceral attack.
There is a sort of bug when using this rune against the Living Failures. Since the boss can multiply into 4 different enemies, upon a successful visceral attack on one of them, it will count as if the player had done that attack against the four of them at once, netting 4 times over the regular reward of bullets. This means that if players have the best version of Oedon Writhe and perform a single visceral attack on the Living Failures (while there are 4 of them), the reward will be a whopping 12 Quicksilver Bullets.
Trivia
It is one of the two Oedon runes, the other being Formless Oedon. The symbols of both Oedon Runes appear to be oozing blood from within.
It would seem that this rune appears to allow to actually extract mercury from the victim's body, as if all these enemies do have it in their blood.
The rune almost seem to represent a centipede or bug that "writhes" both through its name and its design. All of this while seemingly describing the blood as something dirty and thick, like mud.
It is strange how Iosefka and Adella drop these runes. Almost as if their blood is tainted somehow.