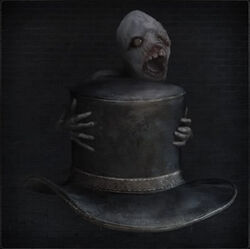 The Messenger Top Hat is a Key Item in Bloodborne.
Description
In-Game Description
Hat that messengers are oddly fond of. A nice top hat rounds out any Yharnam gentleman.
The inhabitants of the stump appear to have an interest in adornment. Why not let them be happy, and revel as babes?
Location
It is found on a corpse in the shaft leading to Abandoned Old Workshop.
Use
Offer it to the Messengers residing in the stump behind the house in Hunter's Dream to change their appearance.