The Messenger Head Bandage is an item in Bloodborne.
Description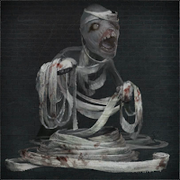 In-Game Description
Accessory adored by naive messengers imitating the bandages of scourge victims, unaware of their meaning.
The inhabitants of the stump appear to have an interest in adornment. Why not let them be happy, and revel as babes?
Availability
Available only as a pre-order/collectors edition DLC.
Use
Offer it to the Messengers residing in the stump behind the house in Hunter's Dream to change their appearance.