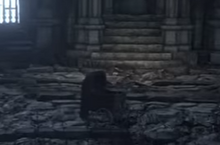 Mergo is a mentioned character in Bloodborne.
Description
Mergo is an infant Great One, suspected to be the child of Yharnam, Pthumerian Queen and Oedon, a Great One.
The child appears to have been stillborn in some fashion, as evidenced by the item description of a certain Third Umbilical Cord, "Every Great One loses its child, and then yearns for a surrogate. This Cord granted Mensis audience with Mergo, but resulted in the stillbirth of their brains."