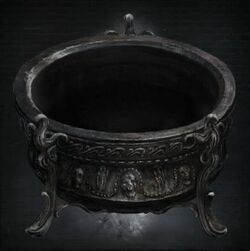 The Hintertomb Root Chalice is a Chalice item in Bloodborne.
Description
In-Game Description
Root Chalice that breaks multiple labyrinth seals.
Root Chalices, used in rituals to break old labyrinth seals, are said to change the labyrinth's form each time.
The hintertombs are unceremonious homes to graves and death, cesspools of noxious snakes and insects.
Availability
Use
The Hintertomb Root Chalice can be used at a Ritual Altar to create one of the following Chalice Dungeons:
Hintertomb - Use only Basic Materials in the Chalice Ritual.
Fetid Hintertomb - Include Fetid Offering Rite Materials in the Chalice Ritual.
General Chalice Info

| | |
| --- | --- |
| Depth | 2 |
| Area | Hintertomb |
Notes
Trivia