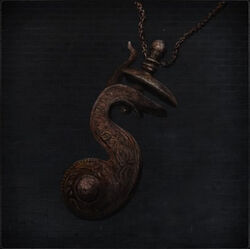 The Firing Hammer Badge is a key item in Bloodborne's The Old Hunters DLC.
Description
In-Game Description
"Badge crafted by the Oto Workshop, precursor to the workshop of the heretical Powder Kegs.
The Powder Kegs were driven by singular ideas, and crafted strange weapons of great intricancy.
It is clear that the philosophy of the Powder Kegs was already established at this time."
Availability
Unlocks
The following items can be purchased from the Bath Messengers:
Left Hand Weapons:
Consumables:
Notes
It can be acquired rather early, since players do not need to kill any bosses within the Hunter's Nightmare to reach it, and it is very close to a shortcut to the Lamp.
Trivia
This badge resembles the hammer of a flintlock rifle. This is adequate, since they seem to favor everything related to fire and explosiveness.