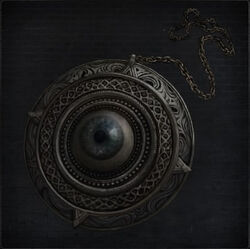 The Eye Pendant is a Key Item in Bloodborne's The Old Hunters DLC.
Description
In-Game Description
An eye pendant which unlocks the surgery altar.
There are two cathedrals in the Hunter's Dream. One lies past the River of Blood, and another contains the private research hall of the Healing Church
Only chosen members of the Healing Church, or their lamentable patients can enter the research hall, using this eye.
Location
Use
The Eye Pendent activates the surgery altar elevator that leads to the Research Hall.
Notes
It is an essential item, as it is necessary to progress through the main questline of The Old Hunters DLC.
Trivia
The player activates the surgery altar by placing the Eye Pendant on the corpse statue of the altar, effectively "planting eyes on the inside of the mind".