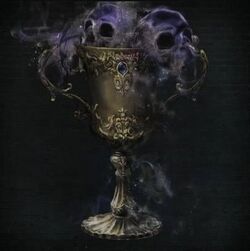 The Cursed and Defiled Chalice is a Chalice item in Bloodborne.
Description
In-Game Description
A chalice that breaks a labyrinth seal.
Only, this defiled chalice is cursed.
Curses are caused by inciting the anger of the Great Ones, and used to hex others. Special materials are required to complete the ritual.
To try one's hand at curses, first seek the Bastard of Loran.
Availability
Use
The Defiled Chalice can be used at a Ritual Altar to create the following Chalice Dungeon:
Information
General Chalice Info

| | |
| --- | --- |
| Depth | 4 |
| Area | Pthumeru |
Notes
Loran children and beasts are often predetermined to die. The beggar is a child of Loran.
Trivia
Community content is available under
CC-BY-SA
unless otherwise noted.