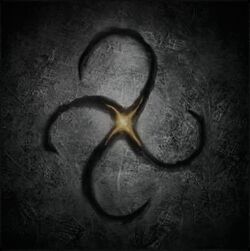 Clockwise Metamorphosis is a Caryll Rune in Bloodborne.
Description
In-Game Description
A secret symbol left by Caryll, runesmith of Byrgenwerth.
The twisted cross means "metamorphosis".
Rotated clockwise, this rune boosts HP.
The discovery of blood made their dream of evolution a reality. Metamorphosis, and the excesses and deviation that followed, were only the beginning.
Effects
One of the "Metamorphosis" runes. Raises HP.
Clockwise Metamorphosis (1): Boosts max HP +5%:
Clockwise Metamorphosis (2): Boosts max HP +10%:
Clockwise Metamorphosis (3): Boosts max HP +15%:
Notes
It is only really useful if players have a very a high Vitality. Otherwise, it is not as great.
It is essential for players who wish to engage in invasions or cooperations, as all but the host gets a decreased health of about 30%. Equipping the best two variants of the rune will almost negate that problem, and make it easier for invaders or cooperators to defend themselves.
Trivia