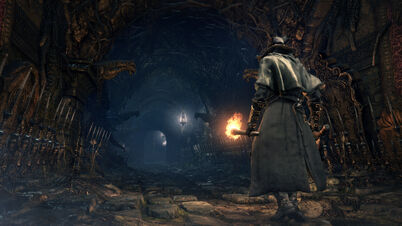 Chalice Dungeons are a type of location in Bloodborne.
Description
In-Game Description
Beneath Yharnam lies an intricate old labyrinth of myriad, endless ruins. By conducting a Chalice Ritual, the seal to the old labyrinth can be broken, allowing you to explore it in the form of Chalice Dungeons.
Select CHALICE RITUAL at a Ritual Altar in the Hunter's Dream, and then select a Holy Chalice and an offering in order to conduct the ritual and unseal a Chalice Dungeon. When using a root chalice, the structure of the unsealed Chalice Dungeon will change each time the ritual is conducted.
Mechanics
Chalice Dungeons are created by conducting a Chalice Ritual at a Ritual Altar. Performing Chalice rituals consume Blood Echoes and chalice materials. They are optional content and act like a dungeon-crawler, with enemies, bosses and items, not found in the main story.
Including the Short Ritual Root Chalice, there are a total of twenty-six Chalices. There are a total of thirty-five named Chalice Dungeons. Each dungeon consists of labyrinth-like "Layers," with a boss at the end of each layer.
Root chalice dungeons are random generated,the others are fixed.
Players are able to co-op in Chalice Dungeons and even share their dungeons for others to experience. Sinister Chalices can be used to create PvP-type dungeons.
Pthumeru Chalice Dungeons
Hintertomb Chalice Dungeons
Loran Chalice Dungeons
Isz Chalice Dungeons
Additional Rites
When the player performs a chalice ritual to create a Root Chalice Dungeon, they can perform Additional Rites that will make the challenge greater while also increasing the rewards:
Fetid Offering
"Invigorates the Watchers, making them more treacherous than normal, but also making them worthy prey for a special hunt."
Requires Sage's Wrist or Sage's Hair.

A red aura appear on several enemies that boost its owner stats.
Increases blood echoes when slain and increases number of items dropped by enemies.
Enemies gain Rally potential stat, recovering their HP upon attacking the player.
Rotted Offering
"Beckons ungodly forces, normally terrifying things, but also worthy prey for a special hunt."
Cursed Offering
"Defiles dungeons in which hunters' HP is greatly eroded, but what better place to seek cursed blood gems but in the midst of defilement?"
Bosses
There is a boss room at the end of each layer. Tomb prospectors must kill the boss to explore deeper depth
The following is a list of Chalice Dungeons bosses.
Traps and hazards
Main article: Traps
The Chalice Dungeons contain many fiendish traps deployed by the watchers and the Pthumerians, an advanced civilization of distant past. These traps and hazards are designed to repel and kill off tomb raiders. However, experienced tomb raiders can exploit these traps and hazards to benefit themselves.
Trivia
Videos
Concept art gallery
Gallery
Community content is available under
CC-BY-SA
unless otherwise noted.