Blood Stone Chunk Farming Guide: 'Bloodborne'
from Darcblade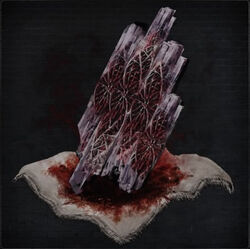 A Blood Stone Chunk is a material in Bloodborne.
Description
In-Game Description
A solid shard that forms in coldblood.
After death, a substance in the blood hardens, and that which does not crystalize is called a blood stone.
A chunk will never appear in the blood of an ordinary human. Seek deadlier foes if bloodstone chunks are needed.
Availability
Use
Blood Stone Chunks are used to upgrade +6 weapons to +7 to +9. This can be done by choosing "Fortify Weapon" at the Workshop, in the Hunter's Dream.
Notes
The most effective farming method is likely believed to be by spawning in Yahar'gul Chapel and slaying the various malformed Scourge Beasts found in the area.
Trivia
It is the spiritual successor of the Titanite Chunk in Dark Souls.
As the description implies, this item really does not drop from anything other than a monster.